This Homemade Lavender Mocha Chocolate Chunk ice cream is a unique treat, made without eggs with instructions with or without an ice cream maker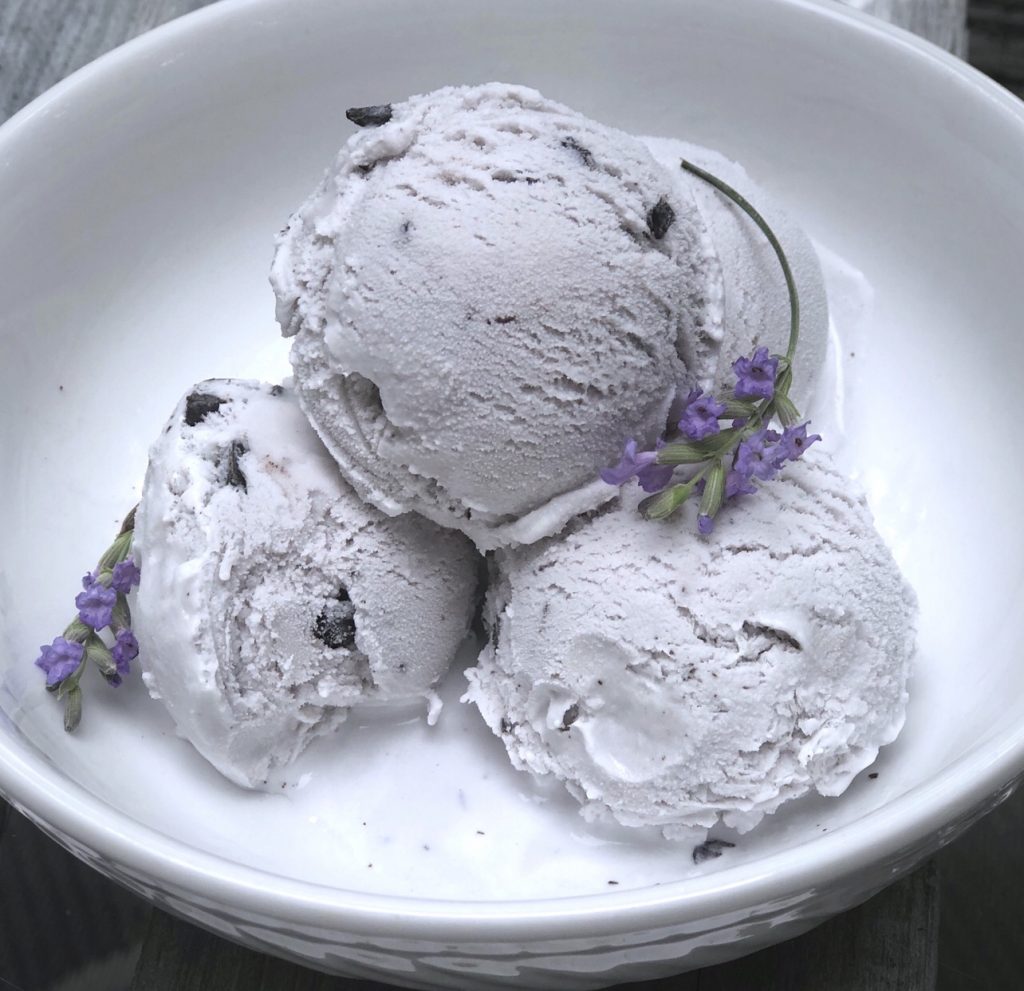 Lavender + Coffee…it's like an oxymoron right?  
But you know how the saying goes…opposites attract, which is sooo true with this gourmet ice cream flavor! 
Lavender, especially when dried, may seem to be a delicate, soothing herb but its floral-minty essence can easily overpower.  
Buttttt…paired with the bold and fragrant taste of coffee beans, these two are a match made in heaven…The dark chocolate chunks to tie it all together, oh mah godddd!!!
Homemade Lavender Mocha Chocolate Chunk Ice Cream-Floral, minty lavender and aromatic coffee beans are infused into a perfectly blended ice cream with dark chocolate chunks.
I bought two lavender plants for my outside deck.  I heard they help with the mosquitoes, and where I live I need all the help I can get. 
Even if they're not repelling those nasty little buggers at least I'm getting those heavenly smelling buds from them. 
Not only are they amazing in ice cream but you can mix them with sugar to use in baked goods (like my lavender & sea salt chocolate chunk cookies) or for a dry rub with lamb.
They're also gorgeous to look at:
What you need for homemade lavender ice cream:
Heavy Cream
Milk
Granulated Sugar
Salt
Whole Coffee Beans
Vanilla Extract
Dark Chocolate Chunks/Chips
Purple food coloring (optional)
If you have a stand mixer (like a KitchenAid), there is an ice cream bowl attachment you can get on Amazon (affiliate link).  This makes ice creamy making so easy!
If you don't have an ice cream maker, no worries! I've included instructions for making this homemade ice cream with an ice cream maker and without :).
Tips for making homemade lavender mocha ice cream:
Don't skip the infusion step! This is key to getting that delicious mocha lavender flavor. It needs to infuse for at least 30 minutes or overnight.
You can use half and half in place of the heavy creamy, but the cream really gives the ice cream that rich, custard-like texture.
You can certainly use chocolate chips in place of the chocolate chunks. I prefer the texture of the chunks :).
I bough these cute ice cream containers on amazon (affiliate link) to store my homemade ice cream in. They're reusable and perfect if you want to transport or give some to a friend/family member!
For more delicious lavender recipes try: