This post may contain affiliate links. Please refer to our
disclosure page
.
Naan flatbread pizza with prosciutto, fig jam, blue cheese & arugula is finished with balsamic drizzle for a healthier pizza recipe perfect for an easy appetizer!
Why is pizza so darn good?  Is it cause it's easy, cheesy, or just that we associate it with the weekend???
This homemade naan flatbread pizza is one of my favorites.  It's a little sweet, a little salty and full of flavor.  The best kind of pizza recipe).
The crust is made using pre-made naan bread which you can find at your grocery store…I find mine at my local Aldi store and it comes in a package of 4.
If you prefer, you can also make your own naan dough using this great recipe for homemade naan.
Naan is a flatbread, traditionally found in Indian, Asian and Caribbean cuisine.  It's got a soft texture and is usually served on the side of the main dish.
You can use the crusts for individual pizzas, or cut them up and serve for a quick and easy appetizer…So simple yet so good.
And the Fig jam????...a gift sent from heaven.
It's naturally sweet, yet earthy and goes PERFECT with the salty prosciutto and blue cheese crumbles.
You can also make your own homemade fig jam if you're feeling your inner Martha ;).
I remember growing up we would make pizza every Friday night.
My mom makes THE BEST pizza…hands down.
Some Friday's we'd even do individual pizza nights which I loved cause I got my own personal pizza 🙂
These naan flatbreads are perfect for individual pizza making; no messy dough and they're already shaped into perfect pizza portions. Just add your sauce and toppings and they're good to go!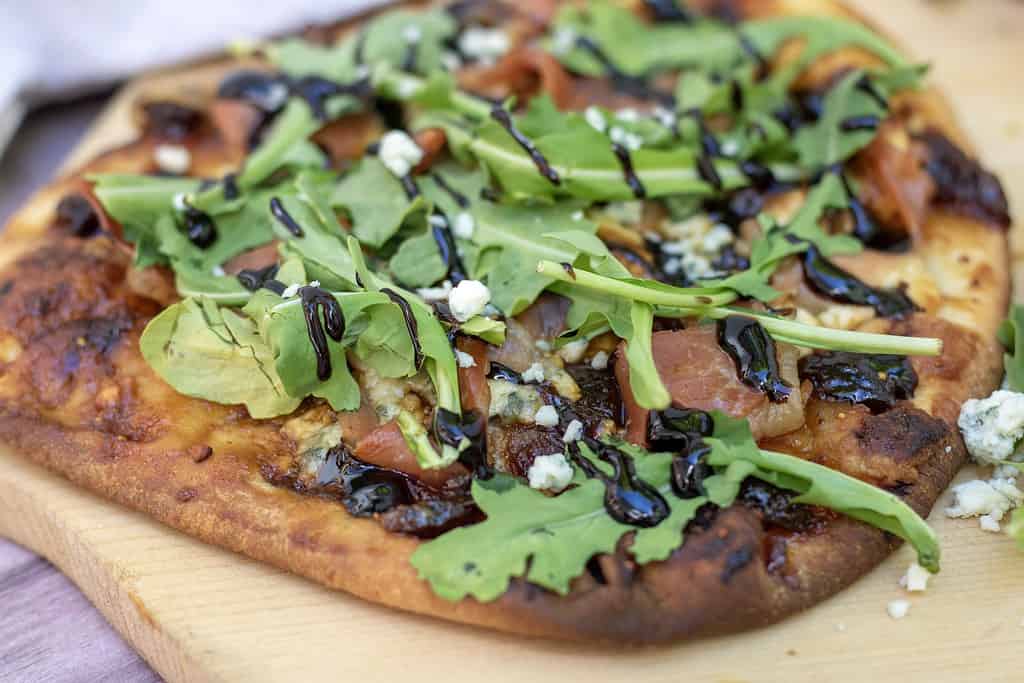 Cooking a flatbread pizza:
Preheat your pizza stone at 450 degrees.  (If you don't have a pizza stone, a regular baking sheet will also work!)

While the pizza stone is heating, prepare your naan by topping it with any ingredients/sauces you'd like

Add olive oil to the hot stone, then add your premade naan crust pizza and bake 15-20 minutes until the crust is golden and crispy. 
Some other flatbread pizza topping ideas:
Goat Cheese & Spinach
Fresh Mozzarella & Tomatoes
Pesto Sauce
BBQ Chicken
Naan flatbread pizza with prosciutto & fig jam is a healthier pizza alternative that takes minutes to prepare.
It's perfect for a quick and easy appetizer or even a last minute dinner. (I keep a package of naan in my refrigerator for last minute emergencies at all times)
For more easy appetizer recipes try:
Blueberry, Goat Cheese & Prosciutto Puff Pastry Appetizers
BBQ Chicken Pinwheels
Roasted Garlic & Tomato Bruschetta with White Bean Ricotta

Naan Flatbread Pizza with Prosciutto & Fig Jam
Naan flatbread pizza with prosciutto, fig jam, blue cheese & arugula is finished with balsamic drizzle for a healthier pizza recipe perfect for an easy appetizer!
Ingredients
4 Naan Flatbreads, package usually comes in 2 or 4
1 cup Fig Jam, store bought or homemade
4 oz. Blue Cheese Crumbles, can substitute gorgonzola or goat cheese
8 slices of Prosciutto
2 cups Arugula
Balsamic Drizzle, optional
Instructions
Preheat oven to 450 degrees. If using a pizza stone, lightly oil and place in oven to heat up. If using a baking sheet, lightly oil it and set aside.
Spread about ¼ cup fig jam evenly onto each flatbread. Top with about ¼ cup blue cheese crumbles prosciutto, about 2 pieces per pizza. (I tear the prosciutto into about 3" pieces with my hands)
Bake for 10-15 minutes until cheese is melted, prosciutto is slightly crispy and naan is golden brown.
Remove from oven and top each pizza with about a ½ cup of Arugula. Drizzle with balsamic if using.
Notes
*Recipe for homemade fig jam can be found here
*You can find balsamic drizzle at your grocery store or you can easily make your own by using this recipe.
Nutrition Information:
Yield:

4
Serving Size:

1 grams
Amount Per Serving:
Unsaturated Fat:

0g