This post may contain affiliate links. Please refer to our
disclosure page
.
Low carb Mexican cauliflower rice bowls are a healthy & easy dinner recipe. Made with black beans and ground meat, they're perfect for meal prep too!
Well guys, I've joined the cauliflower rice cult that has seemed to taken over the foodie world.
I mean, low carb, healthy, easy, andddd tastes good???  It's almost too good to be true, right?  WRONG.
Seriously though, I'm beginning to fall in love with cauliflower rice more and more every time I cook with it. 
I've also tried Asian Cauliflower Rice Stir-fry Bowls and Greek Chicken Cauliflower Rice Bowls.
Once you know how to flavor it the right way, it's a delicious low carb alternative and super easy to make yourself.
These easy and low carb Mexican cauliflower rice bowls are so yummy I could probably make them once a week and never get sick of them
They're totally keto friendly too if you minus the black beans and sour cream.
Easy, healthy, low carb Mexican Cauliflower Rice...that's what's up on Taco Tuesday (or taco any day)..Ya feel me?
With added veggies, black beans, cheese and fire roasted tomatoes, it's flavor and protein packed.
These low carb mexican cauliflower rice bowls are perfect for meal prep too.  You can make them ahead and store in individual containers for lunch or dinner!
Mexican cauliflower rice bowls ingredients:
ground beef, turkey or chicken
taco seasoning
olive oil
diced onion
garlic
bell peppers
zucchini
riced cauliflower
black beans (omit for Keto)
fire roasted tomatoes
lime juice 
fresh cilantro
As mentioned earlier, you can add or omit ingredients based on your preference!
I've made these with corn, or used salsa instead of the fire roasted tomatoes because I didn't have any :).
You can certainly buy riced cauliflower in the grocery store but feel free to try making it yourself.  You can always freeze any leftovers for future dinners.
How to make cauliflower rice:
Place the cauliflower florets in a food processor and pulse until it resembles rice.
Seriously, that's it!
If you don't own a food processor, go out and buy one ASAP or add one to your Christmas list.  
I love my mini food processor for small things like pesto or avocado sauce for tacos, but I also love my big one for riced cauliflower or riced broccoli.
You could grate the cauliflower with a box grater, however this takes a lot more time than the food processor and you end up with little cauliflower pieces all over your kitchen. 
It's not the most practical or easiest, but it'll do if you're in a pinch.
How many cups of Cauliflower Rice does one head of cauliflower make?
About 4 cups of cauliflower rice
Can I freeze cauliflower rice?
Yes!  Store uncooked cauliflower rice in a freezer bag or airtight container for up to 6 months.  Defrost and drain out excess liquid before cooking.
How many Carbs/Calories are there in cauliflower rice?
Cauliflower rice has about 5 grams of carbs (3 net carbs) and 25 calories per cup.
A few notes for making these easy low carb cauliflower rice bowls:
If you don't want to use cauliflower rice and aren't counting carbs, you can certainly substitute with quinoa, brown rice, etc.  Or you can do a half and half combo!
You don't need to follow this recipe exactly.  Feel free to mix it up and add other veggies/types of beans/meat or meatless etc. based on your diet/needs.
For a avocado chipotle cream sauce, simply blend together an avocado, 1 tbsp of chipotle peppers in adobe sauce and ½ cup of sour cream (or Greek yogurt).  Serve a spoonful on top of your cauliflower rice bowls.
This recipe can easily be converted to Keto friendly by excluding the black beans and sour cream.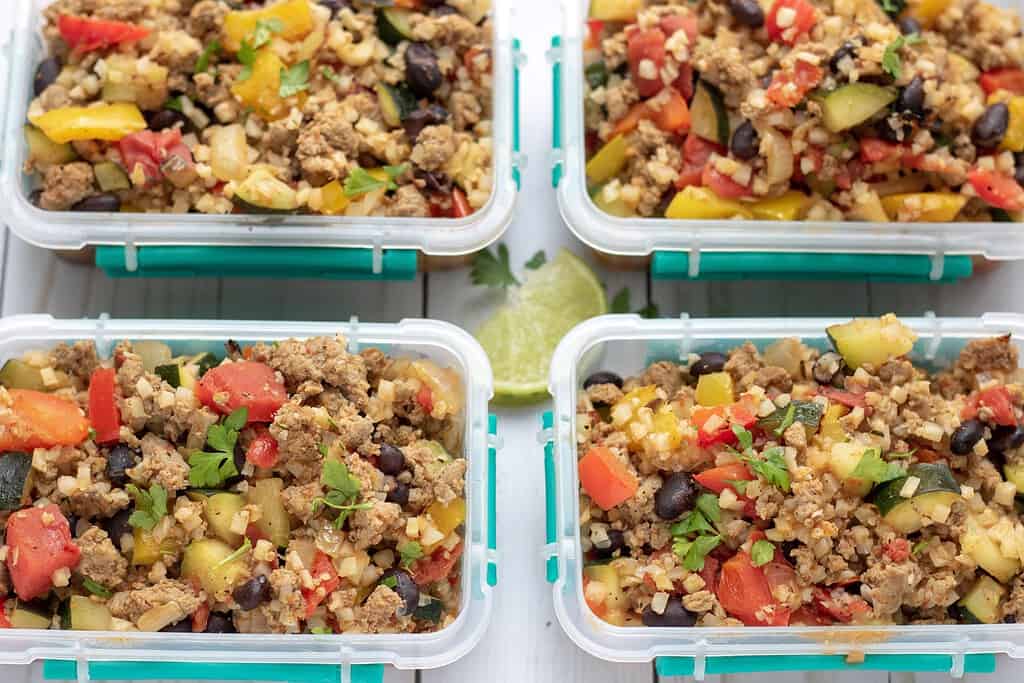 For some more deliciously easy cauliflower rice recipes check out:
Cheesy Balsamic Chicken Cauliflower Rice Casserole
Greek Cauliflower Rice Bowls
Asian Stir Fry Cauliflower Rice Bowls
BBQ Chicken & Broccoli Cauliflower Rice Casserole
Easy Low Carb Mexican Cauliflower Rice Bowls
Easy Low Carb Mexican cauliflower rice bowls (with a Keto variation), are quick, easy and packed with protein for a fiesta filled delicious dinner. Topped with a simple chipotle ranch cream sauce…these rice bowls may be low carb but high in flavor and nutrition!
Ingredients
1 lb Lean Ground Meat, beef, chicken or turkey
2 TBS Taco Seasoning, divided, recipe link in notes
2 TBS Olive Oil, divided
1 medium Yellow or Red Onion, diced
3 cloves Garlic, minced
2 Bell Peppers, diced
2 Zucchini, diced
4 cups Riced Cauliflower, about 1 head, see recipe notes below
1 15oz can Black Beans, drained and rinsed (exclude for Keto version)
1 14.5oz can Fire Roasted Tomatoes
½ cup Fresh Cilantro, chopped, plus more for garnish
Juice of 1 Lime, plus more for serving
1 Avocado, diced (optional)
Shredded cheese, for serving (optional)
Greek Yogurt, for serving (optional)
Instructions
Heat pan over medium heat. Add ground meat and cook, breaking up with spatula until cooked through and no longer pink, about 6-8 minutes. Stir in 1 TBS taco seasoning. Transfer to plate and set aside.
Return pan back to stove on medium heat with olive oil. Add onion, garlic, bell peppers, and zucchini. Cook until veggies are softened about 7-10 minutes.
Add in your riced cauliflower along with black beans, fire roasted tomatoes, and remaining 1 TBS Mexican seasoning. Cook additional 3-4 minutes. Stir in lime juice and cilantro.
Serve in bowls, topped with avocado, cheese and Greek yogurt (if desired).
Notes
*Homemade Taco Seasoning Recipe here.
*For Keto Friendly Version-exclude the black beans and chipotle cream sauce.
*Cauliflower rice bowls can be made and stored in airtight containers for up to 5 days.
*For a chipotle sour cream sauce simply blend together 1 tsp chopped chipotle pepper with ½ cup of sour cream or Greek yogurt.
Nutrition Information:
Yield:

5
Serving Size:

1 grams
Amount Per Serving:
Unsaturated Fat:

0g