Lemon Parmesan broccoli-rice orzo is cheesy with hints of balsamic and basil for an easy and healthy side dish recipe perfect for Spring!

Imagine Spring without lemon. That would be like Fall without pumpkin or Christmas without gingerbread!!!
This lemon Parmesan broccoli-rice orzo is packed with bright Spring flavor.
It's made with riced broccoli that's cooked with garlic and onions and flavored with balsamic, lemon and fresh basil. The orzo is mixed in along with parmesan cheese making it an easy, and cheesy orzo side dish.
Because what's Spring without a little lemon?

Is orzo rice or pasta?

Orzo has the shape of rice, but the texture of pasta making it questionable as to what it is. It's technically a pasta…or an "impasta", get it? ;). It is not a grain and it does contain wheat so unfortunately it is not gluten free.
How do you cook orzo?
You can cook orzo as you would rice or pasta:
Boil it as you would regular pasta in salted water.
Add it to a boiling pot of soup and cook until tender.
Cook it risotto-style in a risotto recipe.
Cook is like you would in a pilaf recipe; meaning cook it in liquid until the liquid is fully absorbed.
Orzo is very versatile; besides using it as a rice or in soup, you can also use it in a cold pasta salad side dish!

For this orzo recipe, we're cooking the orzo as we would regular pasta, then adding it to the broccoli rice mixture and serving it as a warm side dish.
Instead of cauliflower rice, we're using broccoli rice for a pop of color and added nutrition.
To make broccoli rice (or riced broccoli), use the same method as you would for cauliflower rice: place florets in food processor and pulse until finely riced.
The orzo gets mixed into the sauteed broccoli rice, garlic and onions along with some balsamic vinegar and lemon. Then Parmesan cheese and fresh basil are added making this orzo side dish, bright, cheesy and delicious.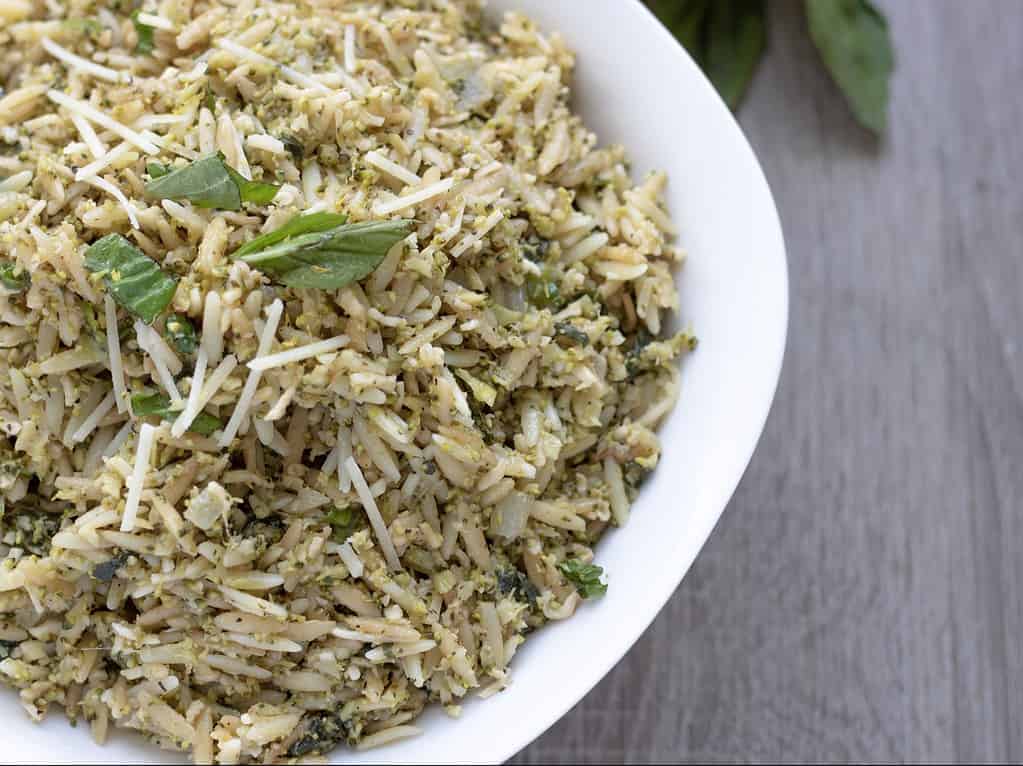 Easy, peasy, lemon squeezy :).
Lemon Parmesan Broccoli-Rice Orzo
Lemon Parmesan broccoli-rice orzo is cheesy with hints of balsamic and basil for an easy and healthy side dish recipe perfect for Spring!
Servings
6
as a side dish
Ingredients
¾

cup

Orzo Pasta

1

head

Broccoli

cut into small florets

4

tbsp

Butter

1/2

Yellow Onion

finely diced

2

Garlic Cloves

minced

2

tsp

Balsamic Vinegar

Juice of 1 Lemon

Zest of 1 Lemon

1 1/2

cup

Parmesan Cheese

½

tsp

Salt

1

tsp

Black Pepper

½

cup

Fresh Basil

chopped
Instructions
Cook orzo according to package directions. Drain and set aside.

To make riced broccoli: in batches (depending how big your processor is), place broccoli florets in food processor and pulse until it resembles rice. Place in bowl and repeat with remaining florets.

Heat butter over medium heat in large sauce pan. Add onion, garlic and riced broccoli; cook until onions and broccoli are tender, about 5-7 minutes.

Add balsamic vinegar, lemon juice and zest, cook 2 minutes.

Add cooked orzo to broccoli mixture along with chicken stock and Parmesan cheese. Cook additional 2 minutes.

Remove from heat, fold in fresh basil and serve warm or at room temperature.
Notes
*This dish can be made up to 3 days in advance and kept in the refrigerator.