Velvety brown butter pecan cupcakes are topped with an easy, & fluffy chocolate cream cheese frosting, toasted nuts and finished with a drizzle of chocolate.
These brown butter pecan cupcakes are my favorite go-to cupcakes when I really want to impress a crowd…Not too sweet and full of flavor; they sound fancier than your average cupcake but they are fairly easy to make!
Just before I graduated Johnson & Wales I started my own home-based cupcake business…Sadly enough, cupcakes weren't paying off my student loan debt and eventually my small business sizzled out while I started looking for a "big girl" job.
When people ask me what my favorite cupcake is to make…yeahp you betcha it's these:
Brown Butter Pecan Cupcakes with Fluffy Chocolate Cream Cheese Frosting
They get a lot of attention so make sure you save a few for yourself before they're devoured by your guests!
If you've never had the pleasure of tasting brown butter, you're in for a treat… Its one of those secret weapon ingredients that (in my opinion) make anything and everything better whether sweet or savory.
Start by toasting your pecans on a baking pan. Check often, stirring every couple of minutes. Keep a close eye because they can go from perfectly toasted to burnt very quickly! Once they are nice and golden, remove and set aside.
Next onto our browned butter liquid gold: melt butter over medium heat in a small saucepan.  You NEED to use real butter; this will not work with margarine.  Once the butter is melted, let it continue melting until it starts to foam for another 2-4 minutes.  You will start to smell a delicious nutty fragrance developing and that my friends, is the smell of browned butter.
Remove from heat and let cool.  The butter should be a caramel color and you should see brown bits on the bottom of your pan.  Congratulations, you've successfully made browned butter!  I told you it was easy :).
Mmm mmm mmm, see all those delicious brown specks of browned butter bits in the pecan cupcake batter?
The smell in my kitchen from these cupcakes is UNBELIEVABLE.
This recipe for easy & fluffy chocolate cream cheese frosting is homemade deliciousness: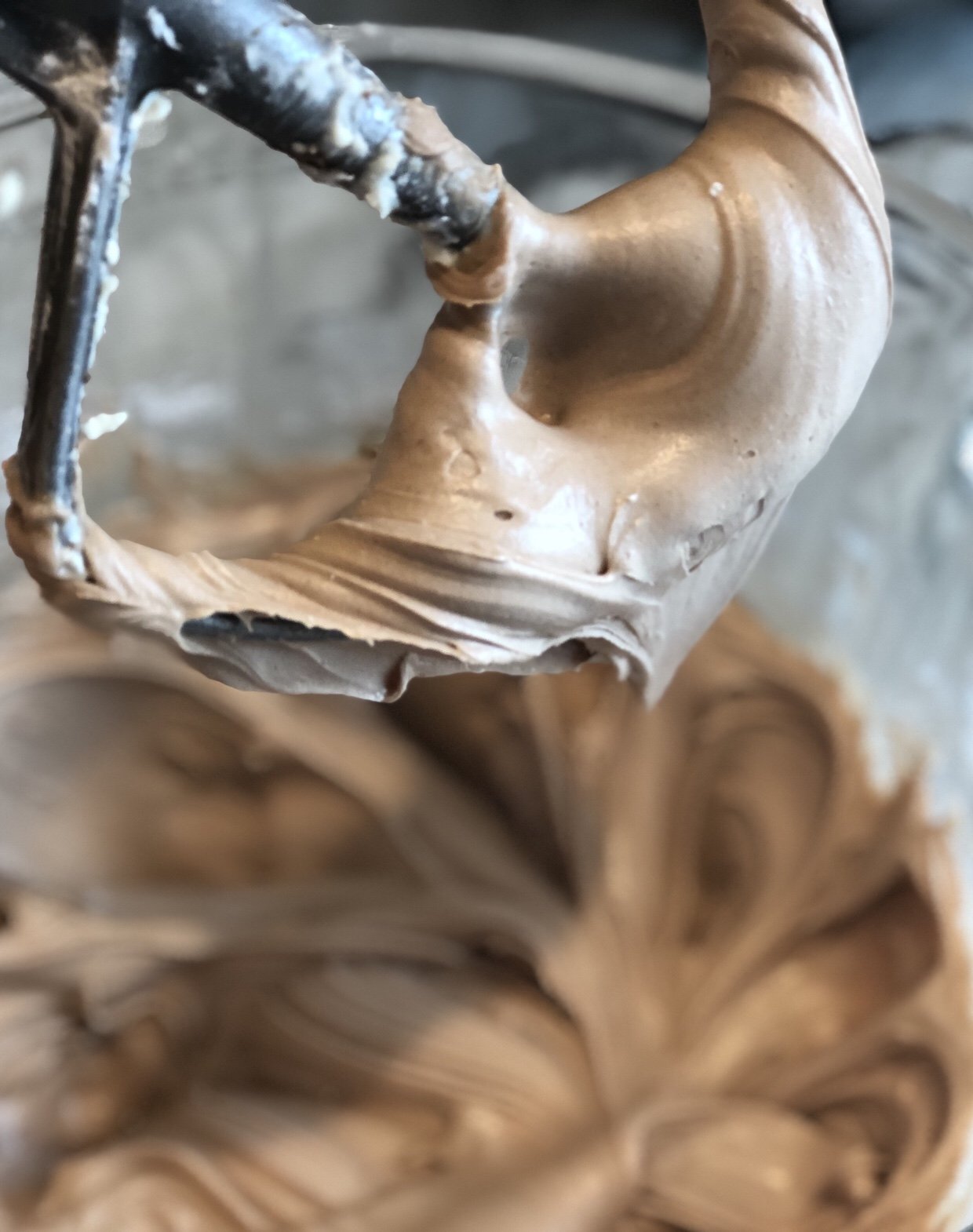 Finish your brown butter pecan cupcakes by frosting and sprinkling with extra toasted nuts and a drizzle of melted chocolate.
If you want to take these pecan cupcakes up a notch, make a batch of my homemade salted caramel sauce and fill the cupcakes with before frosting, or drizzle some on top!
Sign up below and never miss a recipe!